My wonderful, beautiful, BRILLIANT daughter came home from school bearing PIE.....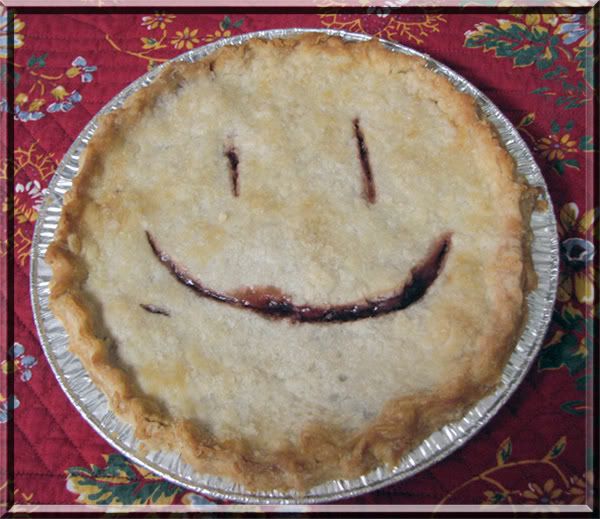 And not just any pie...a cheery, smiley faced Cherry Pie.....with the flakiest crust EVER (must be why he's smiling)...
Little Miss Sunshine made this happy pie in Home Ec class (although "Home Ec" is no longer PC- they call it "Home Careers" or some other nonsense). That (Little Miss Sunshine) would be my 14 year old daughter...and if you've ever been a fourteen year old daughter or even worse, had one, you know how NOT appropriate that name is. Somewhere in there amongst the swirling hormones, my sweet, silly little girl still lurks. Sometimes she even bubbles to the surface and draws a smiley face in a pie crust, strengthening my faith that she will return when all of this teenage stuff settles down....
Unfortunately Mr. Cheery Cherry Pie is now the pie with half a face...poor guy....he was just too yummy to resist....
But he made my day....
Hope you've had a "smiley pie" moment today....
Until Next time......